Our Awesome Team!
From meeting our friendly concierge and administrative team to interacting with our intuitive dental assistants, hygienists, and dentists, you — the Very Important Patient — will have our full focus and attention.
Patient Care Coordinators
The first to welcome you to
Summerside Dental will be:
Lupe
Leah
Alisha
Amanda
Adrianne
Hannah
Dental Assistants
Your skilled Registered Dental Assistants
who will take your radiographs or clean
your children's teeth are:
Tiffany
Carlee
Karla
Jamie
Parth
Registered Dental Hygienists
Your amazing Registered
Dental Hygienists are:
Ntokozo
Piyush
Shenna
Kayla
Kendra
(on maternity leave)
Meet Our Doctors
With over 100 years of combined experience as dentists, it is our feeling that all of the dentists at Summerside Dental are outstanding. While any of them are able to help you with your dental concerns, each general dentist is particularly interested in certain aspects of dentistry, as follows:
Dr. Nina Valiushka – Invisalign, children's nitrous, Botox, crowns, root canals
Dr. Antonella Trache – oral surgery, wisdom teeth extractions, dental implant placements
Dr. Nishu Joshi – crowns, bridges, root canals, white fillings, nightguards
Dr. Tara Anger-Andersen – sleep-disordered breathing, nighttime appliances
Dr. Simrit Grewal – aesthetics, teeth positioning
Dr. Andrew Gibb – extractions, periodontal concerns
Dr. Hanie Morsi – crowns, fillings, research
Dr. Kim Boldt – expanding arches to create broader smiles and airway, baby frenectomies, NuCalm for relaxation, Cerec crowns, CBCT 3D imaging, TENS machine to relax muscles, cosmetic fillings
Your needs will be addressed by this amazing team at your specific consultation or your regular checkup and cleaning appointment.
Languages Spoken:
English, Russian, Punjabi, Spanish, Hindi, Tagalog, Bisaya, Gujarati, Mandarin, Zulu
Dr. Kim Boldt
General Dentist
Dr. Kim Boldt
General Dentist
Wife, Mother, Friend, General Dentist
Two main reasons why Dr. Kim Boldt became a dentist in the first place are:
When she was a child, she had less-than-fun experiences with the dental therapists who worked out of my elementary school in Saskatchewan, and thought she could provide a better experience.
When she was in high school she admired her dentist who used her vacation time to go overseas and do free dental work for underprivileged people.
She has been on two dental mission trips (to Honduras and Sri Lanka) and continue to strive to be empathetic and enthusiastic with all patients, especially children.
How becoming a dentist improved her own health:
She was unaware that it is not normal nor healthy for gums to bleed, so she started flossing daily, taking food supplements, and breathing through her nose.
In addition to causing dried-out lips and bleeding gums, her lifelong chronic mouth-breathing had led to recurrent colds and ear infections, snoring, itchy hands, and the inability to run for long, or to swim underwater.
Once she started using dental trainers and expansion appliances to widen her own smile and airway, she could finally breathe though her nose and her quality of life improved greatly. Now she LOVES running, singing, the ocean and watching her nose-breathing daughters dance!
Living and practicing in Summerside is a dream come true. She's delighted to chat with you at the school, grocery store, beach club or anywhere in our growing community!
Dr. Nina Valiushka
General Dentist
Dr. Nina Valiushka
General Dentist
Dr. Nina Valiushka graduated from the Belarusian State Medical University Dental School in 1993 with Distinction. Soon after finishing the Clinical Residency at the University Hospital, she became a clinical instructor at the dental school as well as maintained her private practice.
Dentistry is a passion for her whole family, she is a third-generation dentist and her daughter will be going on to be the fourth! She will graduate from the University of Melbourne Dental school in 2019.
In 2005, she moved to Canada with her two gorgeous children, and in 2014 she completed the National Dental Examining Board of Canada Equivalency process to practice dentistry in Canada. She thoroughly enjoys all aspects of the dental field, especially working with children of all ages, doing endodontic procedures, as well as cosmetic dentistry.
She is a very family-oriented individual, and grateful for the amazing friends that she has in her life. In her spare time, she loves gardening and is very proud of her beautiful orchid collection. She enjoys travelling and meeting new people while experiencing different cultures. She loves animals, and has a brilliant West Highland Terrier at home, who is really like a third child to her.
Dr. Nishu Joshi
General Dentist
Dr. Nishu Joshi
General Dentist
Dr. Nishu Joshi attended the University of Alberta School of Dentistry, Edmonton where she received her Doctorate of Dental Surgery degree. After graduating in 2016, Dr.Joshi put her plan into action to provide the highest quality services and dental care to people of her community. She is a member of the Canadian Dental Association and Alberta Dental Association and College.
She has devoted her professional career to all aspects of general and cosmetic dentistry, and enjoys treating every member of a family, from children to grandparents. To keep ahead of the latest developments in dentistry, she exceeds the continuing education requirements of the profession. In order to better serve her patients, she has also completed advanced training in Root Canal Treatments and Laser Dentistry.
Outside of the office, Dr. Joshi enjoys outdoor walks and has an inclination towards interior decoration. She spends most of her free time with her husband Vince and their son, Zayn. The Joshi family are avid sports fans and especially enjoy Edmonton Oilers hockey.
Dr. Joshi is passionate about her involvement in the community and loves to participate in charitable events she been a part of a Mission trip to India, where she provided treatment for people in desperate need of dental care.
Dr. Antonella Trache
General Dentist
Dr. Antonella Trache
General Dentist
WITH PRACTICE LIMITED TO ORAL SURGERY
Dr. Antonella Trache graduated from the School of Dentistry at the University of Alberta in 1993. While still in dental school, she joined the Canadian Armed Forces as a dental officer. The military afforded Dr. Trache a vast array of memorable and valuable experiences from both professional and personal perspectives.
After practicing general dentistry for 11 years, she was selected to undertake postgraduate studies in Oral and Maxillofacial Surgery at the University of Texas. The 4-year program was intensive, covering clinic-based and hospital-based cases in dentoalveolar surgery and trauma surgery.
Dr. Trache returned to Canada in 2008 as the Atlantic Region Oral and Maxillofacial Surgeon in Halifax. In 2010, she was posted back home to Edmonton as the Western Region Oral and Maxillofacial Trauma Surgeon at the Role 3 Multinational Hospital at Kandahar Air Base. After a military career that spanned over 2 decades, she decided to take her release from the Canadian Forces as of December 10, 2013.
She continues to enjoy dentistry and involvement in patient treatment, and it will be her privilege to be able to address dentoalveolar, pre-prosthetic and dental implant surgery needs as part of the overall comprehensive oral care and health.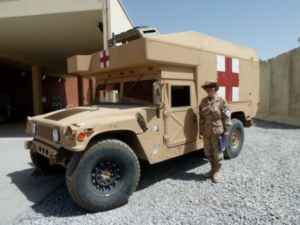 She holds general practice dental licenses in Alberta and Newfoundland and Labrador, as well as a specialty license in Newfoundland and Labrador. She is an Advanced Cardiovascular Life Support instructor with the Canadian Heart and Stroke Foundation and a provider in Advanced Trauma Life Support. She has been invited to present a number of lectures and workshops in her field to various military and civilian organizations and study clubs throughout the country.
Dr. Trache and her partner John, are raising a spirited and very active daughter. In their spare time, they love to cook and travel. Their family bonds over a passion for drawing and painting, which they find to be a very relaxing and enjoyable hobby.
Dr. Tara Anger-Andersen
General Dentist
Dr. Tara Anger-Andersen
General Dentist
Dr. Tara brings over 10-years of experience managing patients' snoring and sleep-disordered breathing. She is a general dentist who has trained throughout North America working with experts in the treatment of snoring and sleep apnea.
After reviewing the physiology of your oral cavity and the results of your sleep study, Dr. Tara may recommend a custom-made appliance to be worn at night.
Dr. Tara's passion is helping adults who snore to wake up feeling well-rested in the morning.
She enjoys spending time with her family, travelling, and checking out new restaurants in Edmonton!
Dr. Gursimrit Grewal
General Dentist
Dr. Gursimrit Grewal
General Dentist
Dr. Grewal was born and raised in the Edmonton area. She attended Concordia University of Edmonton, where she graduated with a Bachelor of Science degree with a major in Chemistry and a minor in Business. She embarked on her dental career in Boston and graduated from Boston University School of Dental Medicine with Magna Cum Laude Honors. She was involved in various organizations at her school, and thoroughly enjoyed research. She loved to mentor students in school who held the same level of passion for this field, and still continues to help students who would like to pursue a career in dentistry in the future!
She loves and enjoys all facets of dentistry, especially crown and bridge work. She was trained at Boston University using the latest technologies such as Cerec, which we offer here at Summerside Dental. It is her standard to provide excellent comprehensive care to all patients, and loves educating patients on the importance of oral health. She constantly encourages patients to ask questions through all appointments. She truly prides herself on easing anxious patients during the appointment, and finds it highly rewarding when patients walk out of her chair with a big smile on their face.
Some of her favourite things include… all things fashion, family, working out and travelling. She is a huge foodie and loves to support local Edmonton restaurants. So, if you sit in her chair, be sure to give her your favourite recommendation!
Dr. Hanie Morsi
General Dentist
Dr. Hanie Morsi
General Dentist
Curt Boldt
Business Development
Curt Boldt
Business Development
Having been married to Dr. Kim for 26 years, Curtis has been involved at Summerside Dental since the grand opening in 2007. With a background in marketing and finance, in 2016 Curtis transitioned from a career in the printing industry to working full time at Summerside Dental where he focuses on numbers and business development.
Curtis loves his dog Fozzy, and golfing as much as he possibly can.
Tiffany
Registered Dental Assistant
Tiffany
Registered Dental Assistant
Tiffany graduated from the dental assisting program at KDM Dental College in 2011. She is from a large family of 7 children, making her kindhearted, caring and compassionate. Tiffany is happily married to her highschool sweetheart. No children yet, just their puppy named Vader. She enjoys baking tasty treats, gardening and spending time with her family.
Parth
Registered Dental Assistant
Parth
Registered Dental Assistant
While growing up, Parth was interested in Arts and Science. He chose the dental field as it combined both the arts & science. Originally from India, Parth graduated in 2012 with a Bachelor of Dental Surgery (B.D.S.) in India. After moving to Canada, he decided to get more exposure in the dental field and graduated as an RDA from Durham College, Oshawa in 2013.
He is enthusiastic about new digital technology in dentistry. He is trained in most of the aspects of general dentistry and particularly likes to work with children. His empathetic nature with a humorous attitude makes patients feel at ease.
Parth likes reading, movies, sports & spending time with his family and friends in his free time.
Carlee
Registered Dental Assistant
Carlee
Registered Dental Assistant
Carlee graduated from the Dental Assisting Technology program at NAIT in 2017. She enjoys assisting every doctor in our practice, especially if a child is receiving treatment!
In her free time, she enjoys spending time with family and friends, LOVES being an auntie to her nieces and nephews, and being active.
Karla
Registered Dental Assistant
Karla
Registered Dental Assistant
Karla and her husband have backgrounds in the hospitality and culinary industries, so Karla knows how to provide the patrons of Summerside Dental with a "wow" patient experience.
She loves golfing, travelling, gardening, canning and baking.
Her life goals are to make a difference in people's lives and to go on a dental missions trip.
Kendra
Registered Dental Hygienist
Kendra
Registered Dental Hygienist
Kendra graduated with honours from the Toronto College of Dental Hygiene in 2011.
Her love for dental hygiene fuels her desire to provide an important service to our patients and helping them feel comfortable and relaxed. She enjoys the opportunity to help our patients understand why complete oral care is so beneficial to their overall health.
In her spare time, Kendra enjoys cooking and spending time with her husband, baby boy and dog!
Kayla
Registered Dental Hygienist
Kayla
Registered Dental Hygienist
Kayla is a gentle, compassionate person who grew up in Camrose and graduated with honours from the Toronto College of Dental Hygiene.
She feels that wearing her magnification glasses with illumination helps her clean teeth with excellence.
Children are especially comfortable with her.
Kayla enjoys soccer, her dog, and the Blue Jays.
Ntokozo
Registered Dental Hygienist
Ntokozo
Registered Dental Hygienist
Ntokozo means "joy", and that is what he is — a cool guy with a fun laugh and great demeanour!
He graduated with honours from George Brown College's dental hygiene program in Ontario.
With over 12 years of experience as a hygienist, he will make you feel at ease as he skillfully takes care of your teeth.
Ntokozo is blessed to be able to spend his free time with his beautiful wife and two children.
Piyush
Registered Dental Hygienist
Piyush
Registered Dental Hygienist
Shenna
Registered Dental Hygienist
Shenna
Registered Dental Hygienist
Lupe
Patient Concierge
Lupe has been at Summerside Dental since November of 2016. She has been in the dental field for the past 5 years and has enjoyed learning new aspects of it.
Her enthusiasm will put a smile on your face when she is helping you with dental insurance and booking appointments.
She is also our Social Media marketer and loves to create videos for our office!
In her free time, Lupe has taken Improv Classes with Rapid Fire Theatre, but she also enjoys playing sports, hanging out with her friends and family, and loves going to concerts and music festivals.
Leah
Patient Concierge
Leah has been working in the dental field for 6 years both in administration and sterilization.
She feels excellent patient care starts from the moment you walk into the office and she strives to make everyone feel comfortable and taken care of.
During her free time, Leah enjoys staying active, going to the farmers market, and exploring new coffee shops around Edmonton.
Alisha
Patient Concierge
Alisha's patient-centric focus comes from her background in geriatric health care and education in Dementia Care.
Her passion for helping others and giving to those in need fits well with our primary core value of being salubrious (health-giving).
In her spare time, Alisha enjoys spending time with her two young nephews, travelling, volunteering, and exploring or trying new things.
She would love to help serve you!
Amanda
Patient Concierge
Amanda is our newest team member at Summerside Dental! She has worked in the medical field for over 10 years, specifically dermatology, but has expanded her knowledge to dental.
She is a welcoming and helpful individual that will go out of her way to make your visit exceptional.
In her free time, Amanda enjoys spending time with her beautiful daughter and her significant other. Hiking, travelling, and working out are some of her favourite activities to do with her family!
Adrianne
Patient Concierge
Adrianne
Patient Concierge